Our Services
Our Services 상세페이지
Osmidrosis
Osmidrosis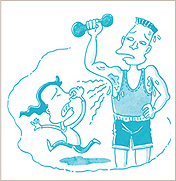 Osmidrosis or bromidrosis causes foul smelling on the axillary area resulting in the social regression and stress. Osmidrosis is a condition of foul smelling odor caused by oversecretion of apocrine gland with bacterial decomposition. Apocrine gland originally control the sweating, thermoregulatory action, and generating the sexual arousing smelling, after it is released, bacterial decomposition results in fatty acid and ammonia and this makes characteristic smelling.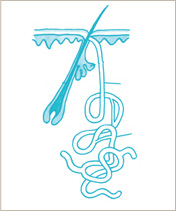 As apocrine gland develops at adolescent period, therefore the symptoms begin at this period. Function of the apocrine gland is regressed in human and its distribution is confined to the axilla and perineal area. Although the most of malodor is the result of the oversecretion of the apocrine gland, some cases are caused by the weakness of epithelium contaminated by bacterial infection. Osmidrosis is affected by the seasonal variation and psychological stress. The symptoms may get worse after the exercise and menstruation or pregnancy makes symptoms worse in female. Osmidrosis can make patient regress or avoid the interpersonal relationship.
Indication of surgical intervention
Everyone has some degree of sweating. But if these cause severe malodor, patients not aware of their own smelling had better visit Plastic Surgeon.
Preoperative preparation
Surgery should be determined after the sufficient counseling. Cessation of smoking and medicines like aspirin should be prohibited for some periods before the surgery. Axillary hair should not be prepped completely but be left about 1cm length as the surgical extent can be exactly marked.
How to treat the osmidrosis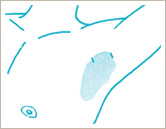 Conventional method of surgical procedure was called subdermal excision. Incision on the axillary area about 10cm and tenting and turning over the skin flap and manual removal of apocrine gland follow. Then skin flap is recovered. Restriction of the movement of arm for 7 to 10 days is necessary. Long scar across the axilla lasts permanently. Female patients are afraid of this scar. D amage to the hair follicle and vessels on the axillary area may result in the partial necrosis of the skin flap. Recently ultrasound-assisted liposuction is introduced. Ultrasound can selectively destroy the apocrine gland without injury to the neurovascular structure. Tiny incision of 1 to 2cm along the axillary fold is made at two sites, and the ultrasound probe is inserted and subcutaneous fatty layer and apocrine gland are selectively gotten rid of. This procedure takes about 40~50 minutes as a whole, scar is almost inconspicuous so that the young female patients are in favor with. Compared with conventional surgical procedure, UAL has less complication with similar effect and recurrence rate. Even if it recurs after the UAL, it can be treated again with UAL safely and easily. Our department reported this superiority of this UAL procedure to the SCI registered American society of Plastic surgeons' journal and has proven the excellence of this procedure.
Postoperative care
Compressive dressing with elastic bandage should be maintained for 2 days after the surgery. Thereafter, daily activity with shower can be restored. Stitch out is made at one week after the surgery. Severe movement including strenuous exercise and extensive motion of the shoulder should be avoided 1 to 2 weeks. Edema or bruise is resolved spontaneously after 2 weeks. Tension which may cause feeling of tightness or pulling is natural course of the recuperation and light exercise or massage can relieve this symptom.